1000W Solar Warm/ White Light Outdoor Lighting Waterproof Solar Spotlight LED Solar Flood Light
Regular price
Sale price
$24.30 SGD
Unit price
per
Sale
Sold out
What is in the package?
1 x Solar Panel, 1 Lamp, 1 x 5M cable, 1 x remote controller, Fasteners
🔥 Super bright - Can light up for 10-15 hours after full charge
🔥 Fast charging - 4-6 hours
🔥 Remote control - Controlled by high power remote control, suitable for automatic mode, remote switch mode, timing function, brightness can be adjusted. Remote distance is up to 10 metres.
🔥 Easy to install - 2 ways to install, one is hanging and one is screwed, 4 screws are included in the package. In addition, there are 2 extension cables of 5 meters for connecting the solar panel to the floodlight.
🔥 Energy saving - No electricity bill, fully solar and wireless installation, can save your cost. Provide lighting and security for your garden, garage, pool fence, barn, flagpole, road and shed, ready to use as wall lights, street lights, garden lights and more.
🔥 Waterproof - IP67 waterproof level, don't worry about bad weather environment.
🔥 Auto turn on the light during daytime; auto switch off during night
🔥 Thickened explosion-proof lamp cover; Tempered glass; Water proof; Dust proof; Hardened
🔥 Adjustable light position that can suit your need
🔥 Superior ABS lamp body material; Fast heat dissipation; Anti-corrosion; Water proof; Dust proof
🔥 Aluminium frame to contain the solar panel; Longer life and durable
How to choose your watt?
🔥 30W Cold Light : $27 (12.5 sq-m lighting area)
🔥 65W Cold Light: $34.5 (25 sq-m lighting area)
🔥 100W Cold Light: $42 (40 sq-m lighting area)
🔥 150W Cold Light: $49 (50 sq-m lighting area)
🔥 200W Cold Light: $56 (75 sq-m lighting area)
🔥 300W Cold Light: $63 (100 sq-m lighting area)
🔥 400W Cold Light: $71 (150 sq-m lighting area)
🔥 800W Cold Light: $78 (200 sq-m lighting area)
🔥 1000W Warm Light: $88 (200 sq-m lighting area
Why choose our solar panel light?
1. Luminous stability, not dazzling
2. Original Lithium battery, exact battery capacity, longer battery life
3. High performance solar panel; superior silicon material, fast charging
4. We offer local support. 6 months warranty is provided.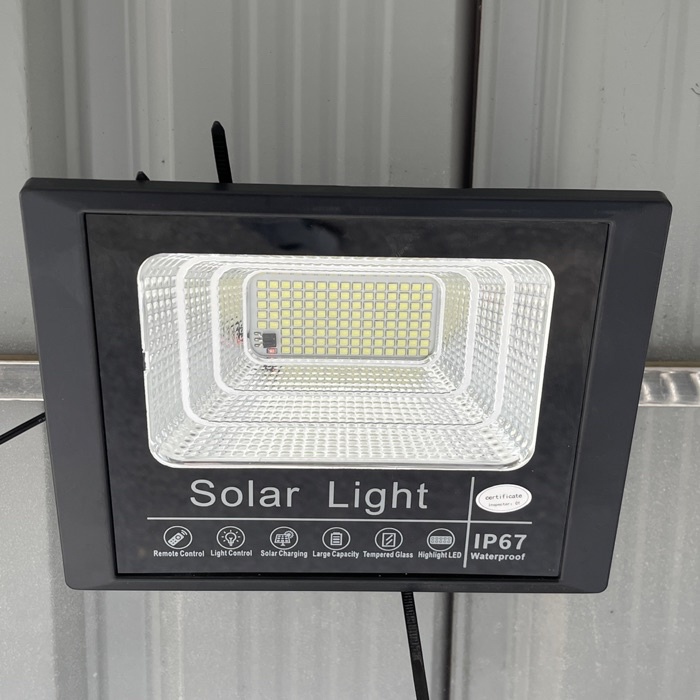 Share